Frequently Asked Questions (FAQ)
Requisition Authorities
1. State level Nodal Officer retired from service. How to add new Nodal Officer?
Send email to NIC at rr.kerala@nic.in
2. Five consecutive wrong password entries will lock the user. How to unlock the user?
Nodal Officer can login and select Unlock User to view the list of locked users and subsequently click blue unlock the locked users.

3. Unable to digitally sign documents with renewed DSC when existing DSC expired.
Nodal officer can login and select Enable DSC Registration and enter the userid of the desired user and click

to cancel the existing registration and enable the user to do fresh DSC registration.

4. How to replace one officer with a new official when he /she gets transferred or retires?
Nodal officer can login and select Assign Seat Charge to view the officer in the roles of Approving Authority / Clerk. Releive the existing officer by clicking

against the desired officer to be releived.

On releiving the existing officer, click

which will appear against the vacant seat in the column Assign seat charge. Select the desired employee.

5. What are the procedures for cancelling a requisition filed online?
a) Prior to forwarding of requisition to District Collector – Approving Authority can cancel the requisition instead of approval.
b) If Demand Notice is not served, Approving Authority can cancel requisitions (Form24) submitted by selecting the menu option RRC Return Request and entering RRC No.
6. What are the procedures for cancelling a requisition when defaulter has settled the dues directly with the requisition authority?
On receiving the requisition, approving authority can cancel it which will make the requisition inactive
7. How to solve the error condition displayed in RA login "Seat not mapped in collectorate "Wayanad" for duenature 'Advance Recovery of department 'Local Self Government Institutions (Corportions,Panchayats &Muncipalities),please contact admin" ?
Please inform District Administrator to map the nature of dues for desired Sector and Department to one Collectorate seat
8. How to contact District Administrator?
Select District Administrator option to list the contact details (email-id and phone number) of corresponding District Admin.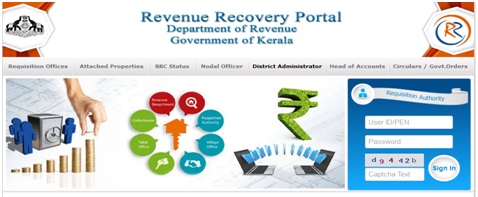 9. How to get the State level Nodal Officer details of Requisitioning Departments?

10. Is it possible to identify a printed demand notice ?
Yes. VO/ SVO can set 'Printed/Not Printed' status for cases in inbox by clicking
in-front of RRC Number.
11. Is there any difference when collection is done through ePayment Portal of Revenue?
a) Collection done in SVO login must be approved by VO. Once VO approves the collection, the same will be made available at Remittance module of SVO for Remittance.
b) Revenue ePayment System : If Collection done in this system then Remittance also must be done in the same system. Remittance details will be automatically transferred to RR Online by midnight.
c) Collection/Remittance done in ReLIS need not be re-entered in RROnline. If Remittance is done as DD (Non Govt dues) then VO has to manually enter DD remittance details in Revenue Epayment System and Close the Collection for the day (Details may be sought from NIC Pkd).
12. Why all files are not listed in Approved list?
Search text box above the Approved List will search only in the current page, not entire pages which is time consuming.
Search Menu option can be used to see the workflow and status of any RRC right from the submission of Form 24 by Requisition Authority till date.
13. How to grant Absolute Stay by Commercial Taxes Department (RA) when defaulter pays 20% of dues?
a) Defaulter have to pay 20% of dues at Village Office
b) On completion of payment of 20% of dues, these RRCs will be listed in respective Approving Authorities login.
c) Commercial Tax Approving Authority will check if Defaulter has filed the Appeal for Absolute Stay.
d) RRCs satisfying the above conditions will be moved to Kept In Abeyance
14. What are the procedures for Closing and Returning of RRC ?
a) RRCs with Closing Balance 0 (zero) will be listed in RRC Closure menu of SVO
b) SVO has to forward the Closure request to VO.
c) VO recommends the same to Deputy Tahsildhar.
d) Deputy Tahsildhar forwards the same to Deputy Collector.
e) When Deputy Collector Approves the Closure, it will treated as Closed in RROnline.
15. What are the procedures for preparation of Attachment Reports at Village Office ?
a) SVO can click Mahasser Entry menu, select appropriate entry form (Movable, Immovable, Rent Attachment etc.) and enter details and submit.
b) Mahassar details entered by SVI will be available for VO in Mahassar Attachment menu for Approval
c) Once VO approves the mahassar entry, it will be forwarded to Taluk and will be available at Taluk Clerk seat.
d) Taluk Clerk can examine the details and forward it to DT with his comments.
e) DT can forward the same to Tahsildhar.
f) Tahsildhar can generate attachment notices depending on the mahassar received from village.
Note: If SVO wish to send scanned pdf copy (Mahassar report) along with these entries, Upload Document option can be used.
16. How is it possible for Tahsildhar to issue stay order for RRC?
Tahsildhar is not permitted to issue Stay Orders. Tahsildhar is permitted to issue Installment Orders which is limited to Rs. 25000 and upto 10 installments.
17. How is RRC Ledger maintained at Village / Taluk Office?
RRC Ledger is available RRC wise and Year wise in RROnline.
18. How is it possible to view the current status of any RRC without logging in?

RRC Status includes demand details, serving details, current status, collection details (date of payment, receipt number, chalan number) and closing balance.